Most Searched Naked Male Celebs From 1 to 10
Get familiar with some super-hot nudey men scenes and sexy celebs that don't mind stripping down for the cameras. From sensual gay scenes to fierce and fiery action films.
01) Nick Jonas
Well the first one might have Priyanka singing her husband lyrics - "I don't like the way he's lookin' at you, I'm startin' to think you want him too". So, I'm pretty sure you can guess what this one is… The gorgeous and possibly slightly gay Nick Jonas overtaken them all as most searched for nude celeb when he stripped off in gay three-way in series Kingdom. Enjoy this short intimate clip of the Jonas brother getting hands on with a guy and girl. His naked body pressed up against another mans is more than enjoyable to watch. Nick Jonas getting hot and steamy thrusting his toned body up against another man
02) Zac Efron 
Get to see a little more of Zac's pack in film Dirty Grandpa were there's a very short clip of his penis and balls. Zac's penis pop's out to say hello in an accidental sac slip. As if his absolutely perfectly carved torso, back arms, legs and shoulders weren't enough?! We get to see it all and we love it. We didn't think things could possibly get any better than the scene of Zac in Bad Neighbours 2 when he rubs an oiled-up turkey all over his body so he could perform a sexy dance.
Zac Efron looking extremely aggressive towards someone but let's be honest it's not his face we're looking at.
03) Henry Cavill
How dreamy is Henry please. Everything from his gorgeous masculine jaw line down to his perfect peach, Henry is the full package and if you want to see more of his behind, make sure you join the rest and search for Henry Cavill's arse in The Tudors. Henry Cavill looking broad and buff and he jogs towards the camera looking like action man. His bulging pecks, defined six pack and toned biceps are a treat for the eyes.
04) Tom Hardy 
Fancy being showered with naked fit guys? Then Colditz is definitely worth a search or a watch. Let me set the scene, Tom Hardy. In the Shower. Amongst other chiselled naked men. Sounds amazing right? Well that's not the best bit. Tom Flashes the goods so we get a good look at his package. This is one out of four films that Tom gets naked for – he must enjoy it.
Tom hardy accompanied by another naked man in the shower with droplets of water dripping down his toned physique.
05) Daniel Radcliffe
Harry Potter himself has many slightly nude scenes that people don't realise about. But he very obviously stars in one called 'Kill Your Darlings' where he is rolling around naked in a hot gay scene. Daniel Radcliffe shows his butt whilst bottoming which became an extremely popular search on the web! Daniel Radcliffe naked going in with his tongue with another hot guy. The two actors are shirtless and on top of one another.
06) Michele Morone
We could definitely watch this clip 365 days of the year. Checkout Michele Morrone dripping wet in the shower with his body glistening in the yellow lighting. Whoever he's approaching here is a lucky girl. Watch the Netflix original movie 365 days see a bit more and when we say more – we mean his penis.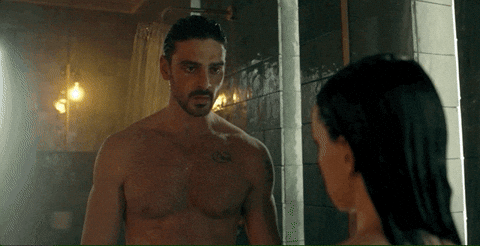 Michele Morrone naked in the shower looking like he's having a very intense conversation or is he just fucking his girl with his eyes.
07) Timothée Chamalet
This is one of many scenes where Tim gets up close and personal with Armie Hammer in 'Call Me By Your Name'. His tight and toned little arse is the best part in numerous scenes. So, if you want to see his cheeky cheeks search the web or better yet watch it with popcorn on a Friday night. Timothée Chamalet getting a bit touchy feely and he places his hand on Armie Hammers dick, grabs his balls and makes himself comfortable.
08)Yahya Abdul-Mateen II
Oh my. What a pleasure to look at. Feeling blue? Cheer yourself up with this smurftastic scene where Yahya Abdul-Mateen II exposes his very large, very blue penis. Sounds weird, I know – but you won't regret it.
Yahya Abdul-Mateen II standing loud and proud whilst the light bounces beautifully off the right-hand side of his ripped body.
09) Adam Driver
Another top searched hot naked celeb is Adam Driver. Kylo has a dirty nude past in series 'Girls' and shows us that he has a dark side. The famous scene in the series involves Adam and a hard on that needs attending to, yep that's right – he wanks on camera.
Here you can see Adam's gorgeous peachy behind whilst he's stood in front of a mirror whilst looking down at something – wonder what he's so interested in…
10) Tom Holland
Lastly, we have to give a shout out to our favourite marvel superhero. Tom Holland clearly worked hard on his body for this roll, and so he should – it's Spiderman! The teen hunk looks very impressive in both films.
Tom Holland whipping off his shirt in a hurry showing off his perfectly carved abs.
---